10 Benefits of Investing in Custom Tailored Suits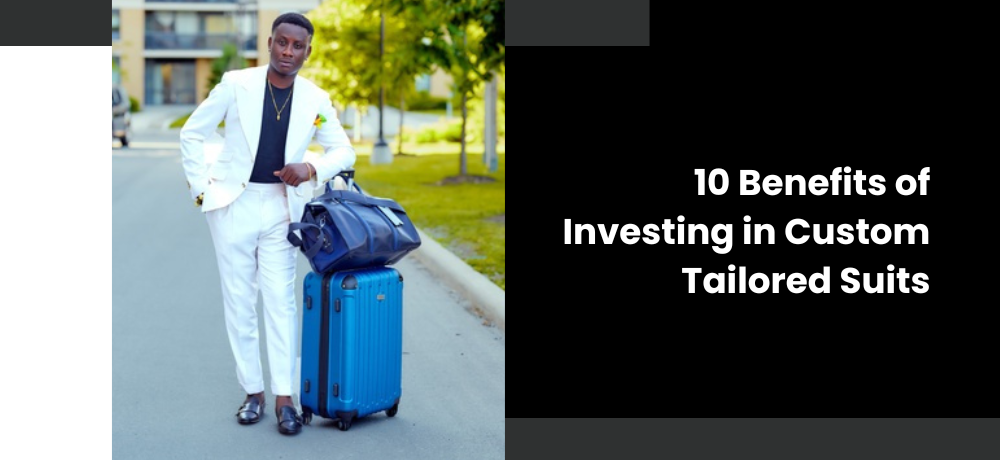 In a world where first impressions matter more than ever, one's appearance plays a pivotal role in leaving a lasting impact. Among the various elements that contribute to a polished and sophisticated look, a well-fitted suit stands as a timeless symbol of elegance and professionalism. In this blog, we're delving into the incredible benefits of investing in tailored suits. Whether you're striding into a corporate meeting or embracing a special occasion, these bespoke ensembles will redefine your style game.
1. Impeccable Fit for Unparalleled Confidence
When it comes to suits, the fit is king. Our custom-tailored suits are meticulously crafted for your body, ensuring a fit that's both comfortable and confidence-boosting. No more baggy sleeves or tight shoulders – just a silhouette that exudes sophistication.
2. Tailored to Your Unique Style
Every detail is a reflection of your taste. With custom-tailored suits, you're in control of every aspect – from lapel style to pocket placement. We collaborate with you to design a suit that embodies your personality and showcases your distinct style.
3. Unmatched Quality and Craftsmanship
Investing in a custom-tailored suit means investing in top-tier craftsmanship and premium materials. Our artisans at Prosper Daniels Clothing are dedicated to creating suits that not only look exceptional but also stand the test of time.
4. Versatility for Every Occasion
One suit, endless possibilities. Whether it's a formal gala, a business meeting, or a stylish night out, your tailored suit seamlessly adapts to any setting. Versatility meets elegance, all in one package.
5. Elevate Your Professional Image
A well-fitted suit sends a powerful message of professionalism and attention to detail. Whether you're climbing the corporate ladder or sealing deals, your custom-tailored suit becomes an essential tool in your success journey.
6. Comfort Redefined
Bid farewell to uncomfortable suits that hinder your movements. Custom-tailored suits are designed with your comfort in mind, allowing you to navigate your day with ease while looking dapper.
7. Attention to Detail
From button selection to stitching style, every detail matters. Our custom-tailored suits pay homage to the art of fine tailoring, ensuring that no aspect is overlooked, and every element contributes to a harmonious whole.
8. An Investment in Confidence
When you wear a suit that fits like a second skin and embodies your style, you exude confidence effortlessly. The right suit has the power to transform your posture and demeanor, making you feel ready to conquer any challenge.
9. Uniqueness Personified
Stand out from the crowd with a suit that's as unique as your fingerprint. Custom-tailored suits allow you to express your individuality and leave a lasting impression wherever you go.
10. A Timeless Addition to Your Wardrobe
Trends come and go, but classic elegance is eternal. A custom-tailored suit from Prosper Daniels Clothing is a timeless addition to your wardrobe that you'll cherish for years to come.

Experience the epitome of personalized style with custom-tailored suits. If you're looking for custom-tailored suits that epitomize elegance and individuality, then contact Prosper Daniels Clothing. Elevate your image, embrace impeccable fit, and redefine your perception of sartorial excellence. If you're ready to step into a world of bespoke fashion, reach out to us today!
Get in touch with us today
To learn more about what we have, please click here. To contact us, please click here or call us at (416) 319-3763.