Top Five Things To Look For When Hiring A Fashion Designer Or Custom Tailor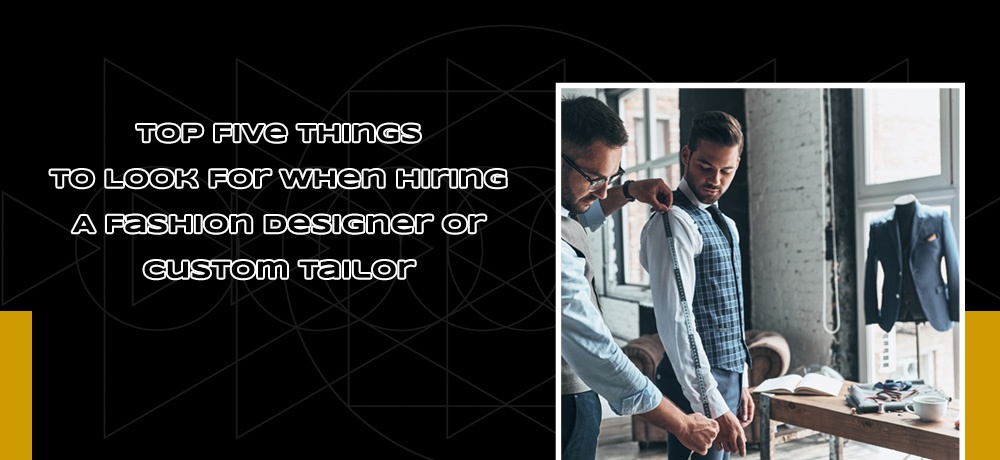 Fashion designers and custom tailors work with a client by designing and personalizing garments tailored to a client's body type and needs. They discuss designs, take measurements, select and purchase fabrics, and source other materials. They pin garments together for necessary adjustments and also give the customer additional fittings during the construction process to ensure a proper fit.
In today's fast-paced life, most people prefer to buy ready-made clothing, not understanding the importance of customized garments. Hiring a professional fashion designer or custom tailor ensures that you can get the perfect fit for your body. They have an in-depth knowledge of the fashion industry and know what is trending, thus they can help you decide on a fashion style that suits you and is unique to you.
If you are looking for a fashion designer or custom tailor, here's a list of the top five things to look for that will help you quicken your search and make an informed decision.
1. Quality of work
Just because it's custom made, don't assume that the quality of the material is going to be top-notch. Have a discussion with your tailor, figure out where they source their material from. If the materials sourced are of good quality, you can guarantee that your garments will come out looking splendid.
2. Interpersonal skills
A tailor or fashion designer should be someone you're comfortable with. Having a garment made specifically for you requires someone to be able to see your vision and use their professional and artistic point of view to bring it into existence. They need to be able to relate to you, understand your personal style, and offer suggestions.
3. On-time delivery
If you have set deadlines, it is important to ensure that your fashion designer or tailor understands why and when you need something. If a tailor is delayed, many joyous occasions can turn into disasters that stay with you for a lifetime. Pick a professional who completes their work efficiently and delivers your garments to you on time or even in advance to keep some time aside for any alterations and last-minute changes.
4. Level of expertise
When your garments get made or altered, it is necessary to ensure that you are getting it done by an expert. If you have a specific garment in mind such as a wedding dress or a suit, look for someone who has prior knowledge and experience in creating that garment. Certain fabrics are hard to work with, ensure that the person you are hiring can do justice to the material you want. Ask to see photos or examples of their previous work.
5. Affordability
Tailoring, in general, can be very affordable. However, some specific aspects of it can be expensive, depending on the material and workload. Before you consider hiring a fashion designer or custom tailor, figure out if the job you want to give the tailor might become expensive. If you are on a budget, take your time, shop around and ask multiple tailors for their opinions and fees to figure out the general cost of your specific tailoring job.
If you're looking for a fashion designer or custom tailor in Etobicoke, Toronto, reach out to Prosper Daniels Clothing. We are passionate about tailoring, and we aim to exceed expectations by paying close attention to detail. Our dream for the future is to become a fashion powerhouse and be the first name on everyone's lips when it comes to personalized tailoring, women's personalized tailoring, kids customized tailoring, wedding services, personal branding, and corporate uniforms and branding. We ship custom apparel and accessories across Brampton, Mississauga, Toronto, Kitchener, Canada, the United States, Europe, South Africa, Africa, and all over the world.
To learn more about us, please click on custom clothing services, wedding services, and other services. To get in touch with us, please click here.